Family Tree Poster for Women Teaching Women English Unit 1: Family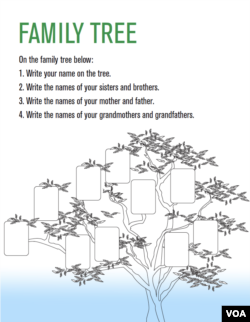 This tree graphic can be used with the Women Teaching Women Unit 1 lesson on Family. It is © 2017 University of Oregon and Voice of America. This work is based on the Women Teaching Women English materials produced by the University of Oregon American English Institute under U.S. Department of State Federal Assistance Award S-LE200-10-GR-050, issued by the U.S. Embassy Beirut.
The Let's Teach English video series offers free online training for English language educators worldwide. It is based on the Women Teaching Women English text for adult, beginning level learners. Voice of America and the University of Oregon are partners on this project. The course includes:
An introductory segment which summarizes the main topics of second language teaching and shows classroom examples of the topics.
Ten 5-minute video episodes based on the units of Women Teaching Women English. Each of these episodes provides a model of communicative language teaching through simulated language classroom interaction.
Updated digital downloads of the Women Teaching Women English student book, teacher's manual, and audio files.